As the numbers of remote workers continues to grow, and the number and duration of critical conferences with large numbers of participants continues to grow, IT Departments and Supervisors need real-time data and insights to deliver high quality services and data-driven, cost-effective support.
Our goal is to enable support organizations to delight their users by being able to quickly find completed and live conferences, pinpoint specific users and groups, and easily drill-down to find root causes for service and quality issues.
8x8 and callstats are meeting the challenge! We continue to listen to you, our customers, and are investing in higher performing, more scalable data pipelines, better distributed and more cost-effective storage and security solutions, and in predictive technologies that will soon help you prevent issues before they happen!
We are building support for large online conferences of up to 500 participants, and we are improving the way our insights and diagnostics are organized and presented accordingly.
Last quarter we focused on improving the page loads for large conferences. Along with the data loading, we are updating the workflow and the user-experience. There are a lot of changes happening under the hood, so some of these updates will be quickly available while others will appear later.
The major change that is happening under the hood is the moving to data pipeline v3. The data pipeline v2 has served us well for the last 5 years, however, the blitz scaling in 2020 (due to shelter in place orders) warranted a new look at the infrastructure. Furthermore, in the last year, quite a few of our customers have gone from limiting 20 participants in a conference calls to 500-1000 participants in a conference call (a mix of real-time voice and real-time streaming).
We are re-imagining the workflows for diagnosing these large conferences, new data tables to look at the issues hierarchically.
What were the issues in the conference at an aggregate of participation
Which users participated, from where, which networks, summary of inbound and outbound connections, media, etc
Ability to drill down from the conference/user level to a single user or a subset of users based on:

network/transport issues
incoming media issues
outgoing media issues
When needed, raw data will always be accessible.
The callstats team has been working tirelessly behind the scenes to get this into your hands, we are extremely excited about these workflow improvements. Further, this will be a stepping stone to allow slicing and dicing the data based on arbitrary constraints. What this really means that you will be able to break apart the subset of users from a group of calls and analyse them.
We will discuss more about the new data pipelines in a future blog post, but I wanted to use the opportunity to highlight that this an important update for the product and will take place in phases.
Debugging 500-participant calls with new UI.
Its easy to switch to the new callstats dashboard UI with a simple toggle
Data tables are now split into separate tabs

Caching is implemented to help load data faster

User subset selection feature based on attributes (e.g. user location)
The end result - easy navigation and a robust debugging experience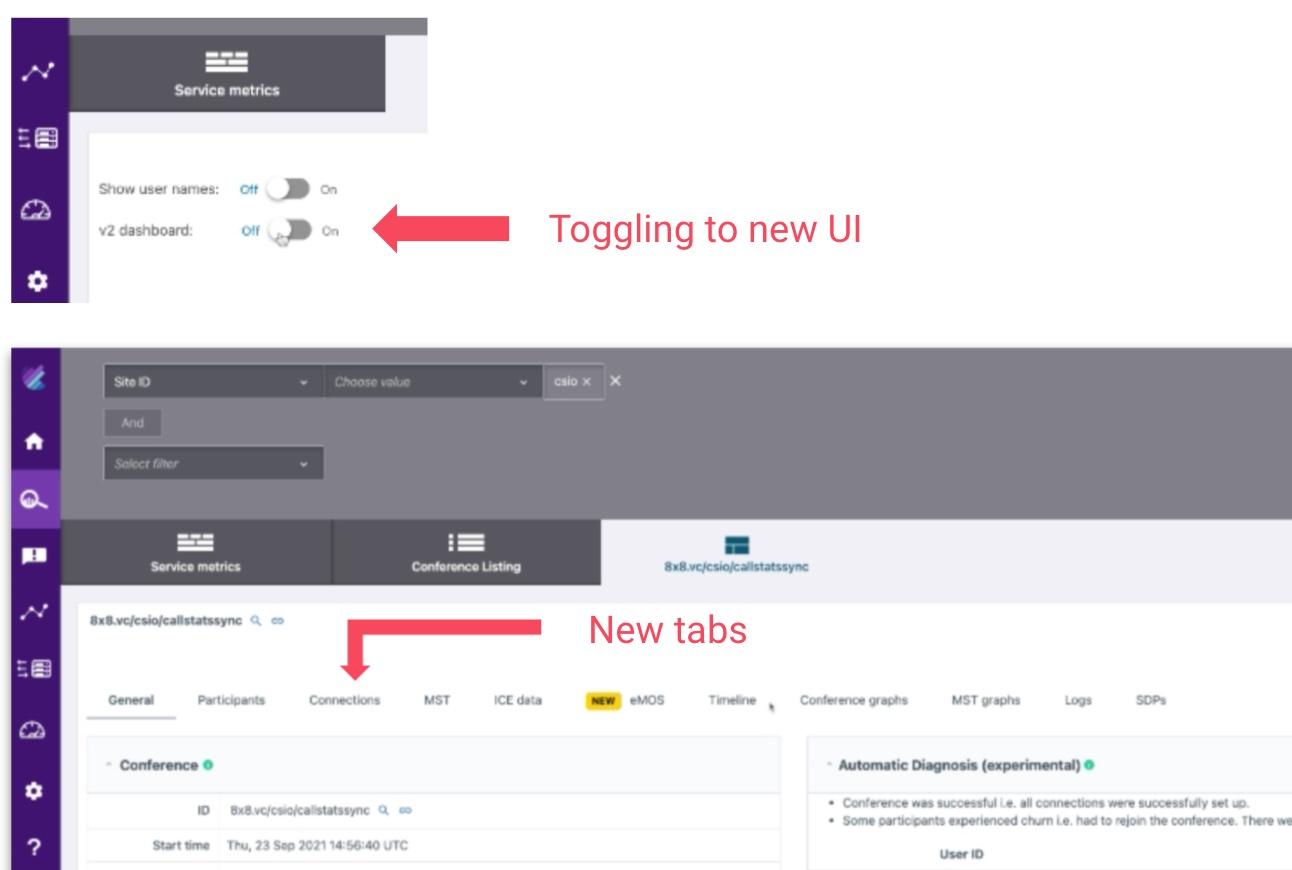 See video
---
This feature was built by Dejan, Tamas, Paul, Karthik, Eljas